A Smarter Carpark: Westfield Carousel Carpark Upgrade
16th March 2018
We helped supply the lighting for Westfield Carousel Shopping Centre's Carpark expansion.
As part of the expansion, an additional 700 car bays were built with more to come. The Westfield Carousel Carpark now comprises 3 levels, including one underground, a mezzanine and rooftop level.
Scentre Group, the Westfield developers, along with the engineer, approached Lighting Options Australia to assist with this project.
A key consideration of the LED strategy was the ability for the luminaires to react to customer movement allowing the quieter unused spaces to dim down vastly increasing the efficiency of the project. With current LED technology and programming Trilux Aragon was the ideal solution for this project.
The transparent top surface of the fitting allows for indirect uplight/wash to the carpark ceiling creating not only a perfect illumination of the floor but creating a beautiful carpark space.
Electrical Contractor - Everett Smith (ESCO)
Lighting Designer/Engineer - Lucid Consulting
Lighting Supplier (as shown above) - Lighting Options Australia
Photographer - Matt Devlin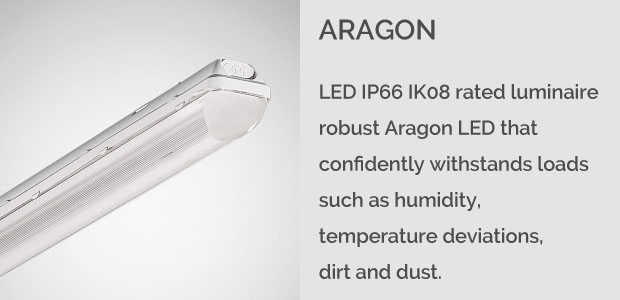 ARAGON LED
The Aragon LED is the ideal partner for efficient refurbishment projects. Replacing standard luminaires in obsolete lighting systems with LED becomes child's play due to identical construction designs. Use of the latest LED technology with a service life of 50,000 hours and efficiency of 100lm/W reduces operating overheads by more than 50%. As if that was not enough – the sophisticated weather-proof luminaire is also smart. Its integrated sensor for presence and daylight detection enables further energy savings. In addition, the robust Aragon LED luminaire body confidently with stands loads such as humidity, temperature deviations, dirt and dust.